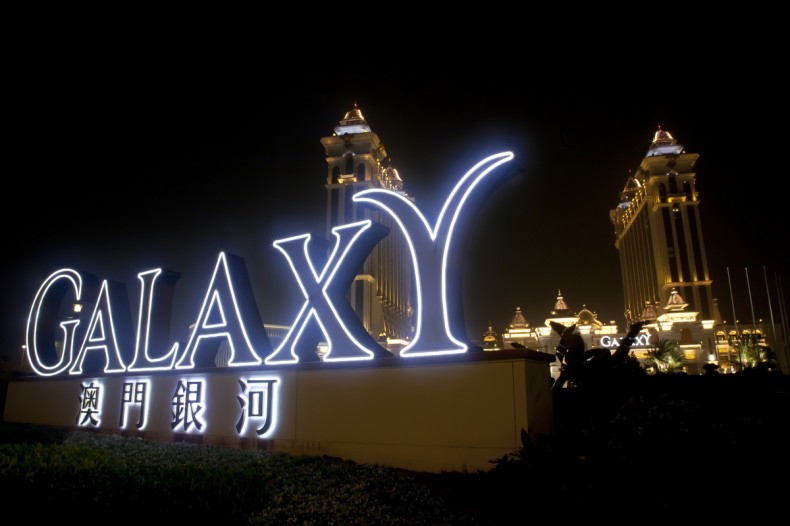 Photos used with permission of Galaxy Entertainment Group Limited.
We told you all how much we liked the hardware of Galaxy Macau the day before it opened. We were still, however, reserved in our expectations for the actual opening, mainly due to the inexperience of the management team in the mass market. We were again surprised on the upside.
Indeed, in our humble opinion, this was the smoothest, most efficient opening of a mass-market property since Wynn Macau opened in September 2006. Don't even mention COD, which was plagued on opening day by dealer mishaps that required repeated surveillance reviews. Nor even Venetian, which caused such chaos outside the property on day one that people ended up walking all the way back to Taipa in the scorching summer heat. Grand Lisboa? Not bad, but the paint was still drying when the doors opened. Crown Macau? It still provides the template for properties opened several months too early.
Galaxy Macau's opening wasn't perfect. The cage was inundated – we ourselves were unable to cash in the Lui family's generous donation to our family's college education fund from their blackjack tables, and so will have to return today in hope of shorter queues. Some of the dealers were extremely nervous, and many of the pit bosses seemed a year or two out of high school.
But it was damn close. Here is what we liked the best:
1) Traffic management. As mentioned by numerous analysts already, GM is a very well-designed property. Foot traffic flows easily and sensibly. All the way in, through, and out again. The buses were particularly well-managed. But what really got us were all the extra hands on deck to ensure safety and ease of movement of people. Someone thought this all through very carefully, right down to having porta-potties available for those people who queued up outside hours before the doors opened.
2) Restaurant and drink service.
We went to the noodle bar closest to the front of the casino. The staff were courteous and very efficient. This was clearly a place that had been going through serious drilling for days, perhaps weeks, prior to opening. Before that, we had ordered some beers at the blackjack table and they were delivered quite promptly, which was surprising given that most Chinese gamblers don't mix alcohol with business. The only place where we heard whining about slow drink delivery was the Macallan Bar, but we discounted that because the room was full of executives from other casinos.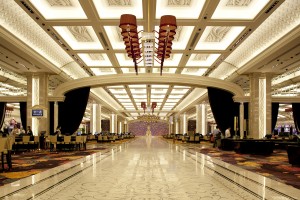 Photos used with permission of Galaxy Entertainment Group Limited.
3) Loyalty-card promotions.
At every table, the dealers and pit bosses were well-trained to push the Galaxy loyalty-club cards. We don't see the same energy put into marketing  cards at the dealer level by established casinos around town. Maybe it was opening day, but still …
4) The guest list.
It says a lot about the efficiency of a property when you go to its opening party and see who else is there. Never mind Ho Hau-wah and Tung Chee-hwa flanking Chui Sai-on up on the main stage (though that did get our Portuguese lawyer friends cracking some funny speculative jokes). Galaxy didn't need a Tony Leung-type celebrity this time around because they could pull on the strength of their own guanxi. That showed us how good the people are running PR, government and community relations.
Now, one might argue that perhaps we shouldn't have been so surprised about some of it. Dennis Andreaci is obviously the go-to guy for opening big casinos, having done so many of them now. He should offer a diploma course in how it's done. Heinz Roelz is a master of hospitality, and he has some talented guys running the hotels and food and beverage outlets, including Paul Town, who opened the COD hotels, and Michael Au, who was the longtime lieutenant of Allan Ho, king of the Michelin-starred restaurants in Macau.
But the guys who we think deserve to take a really big bow today are those who made this all possible by hiring the talent in the first place. Yes, they were fortunate in having a boss who knows, like Steve Wynn, the importance of getting it right on opening day even if you have to wait a bit longer to open the doors – he could have forced his frontline staff to open before the May 1 Golden Week. Nevertheless, this was a major human-resource effort in the middle of the tightest labor market on record and one that, to be frank, we were raining on a few months ago by listening to silly gossip that suggested they were way behind on the recruitment goals and schedule. So Trevor Martin and Liviano Lacchia, please accept our humble apologies and take the credit you are due.
Now let's wait and see how Lady Luck treats Galaxy Macau. Used with permission & copyright to IntelMacau.com