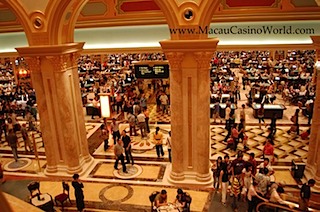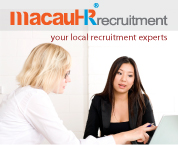 Macau No.1 Online Job Site
Latest: June 2010: Filipinos warned job seekers, especially those with only tourist visas, were warned against seeking work in Macau as the Macau government is giving priority to local hires.
It is no longer easy to get jobs as walk-in applicants in the region, Labor Secretary Marianito Roque said, citing a report from the Philippine Overseas Labor Office in Macau. Click here to read full coverage from GMA News.TV

Macau is booming and casinos are hiring. Here are some websites and email you may find useful in your search for a place under the Macau's sky. Best of luck and to your success!
Croupier
For those wanting to come to Macau as a croupier, success rate could be limited. According to a report on July 14th 2006, The Secretary for the Economy and Finance, Tam Pak Yuen (譚伯源) clarified that the Government has never made any authorisations for non-resident workers to come to Macau to work as coupiers, whilst non-resident workers comprise about 10% of the total workforce in new hotels, with that proportion remains basically the same in all these new hotels. Soure: BlogMacau.Info
Tips
Here's a tip from my friend, Ian of GamingFloor.com
"With perhaps up to 20 additional casinos due to open in Macau the total could go from 21 to 40 in the next 5 years.
The S.A.R. like Las Vegas will have a voracious appetite for workers. It's not just gaming but also hotel, catering, administration etc… etc… right across the spectrum.
So for anyone who gets rejected all I can say is keep up with the news, keep visiting the websites and make sure you have a knockout CV at the ready.
Personnel departments only have a few minutes to dedicate to each application so your CV should be simply laid out, short and to the point. Forget about high school diplomas and other non essential material, a quality head and shoulders photo and perhaps another full length in uniform is much more important.
And another tip. The head and shoulders passport photo shouldn't look like a police mugshot – SMILE"
Contacts
For applications or inquiries, please contact their Human Resources Department at jobs@venetian.com.mo or mail to:
Regional Director of Human Resources
17th Floor, Zhu Kuan Building, Av. Xian Xing Hai,
NAPE, Macao SAR, P.R. China
It's offer online job searches within Wynn Macau. With only 4,500 jobs available during Phase1, Wynn experienced over 55,000 applications!
Visit their career opportunity site for list of opening.
Stay tuned for more posistions to be advertised as the date to opening gets closer.
Online Recruitment Site
Good Luck !