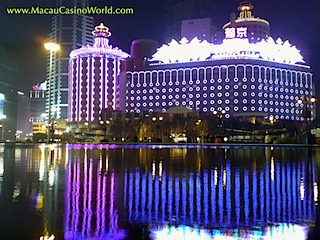 "Macau gamblers play passionately – even at baccarat, where the only decisions to make are how much to bet and what to bet on (banker, player or tie). With excruciating drama, they slowly bend each card to see its numerical value. They shout with happiness or yell in disgust before showing their cards. James Bond might have played baccarat with cool detachment, but in this city, gamblers anxiously switch their bets around, following trends or anticipating reversals."
– Jeff Simpson of Las Vegas Sun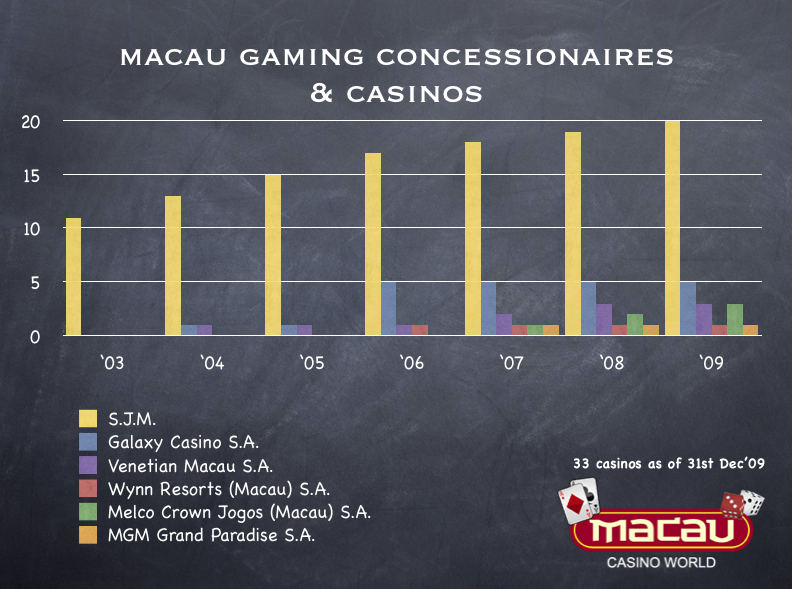 Click here to read more about Macau gaming concessionaires
Brief Macau gaming history summary.

1850s : Portuguese Government granted gaming houses licenses in Macau
1867: Fan Tan gambling houses opened in Macau
1937: Macau government monopolized casino operations
1961-62 : Macau casino monopoly opened for tender. Stanley Ho's STDM replaced Companhia Tai Heng as the sole operator.
1970: Hotel Lisboa opened
1999 : 20th December. Macau returns to Mother China
2002: Macau Government granted 3 casino concessionaire to Galaxy, Wynn Resort & SJM, ending STDM monopoly.
2002: STDM transferred its 11 casinos to SJM
2003: Sands Corp (Las Vegas) announced plans to develop The Cotai Strip® with other companies
2003: Pharaoh's Palace opened at The Landmark (SJM frst themed casino)
2004: 18th May. Sands Macau opened for business. A new begining for Macau gaming industry
2004: 24th June. Wynn Macau broke ground for construction
2005: Fisherman's Wharf opened
2006 – 2009 : Stay tuned as a lot of developments are happening.
Reference: The New Macau by Jennifer Welker www.thenewmacau.com
Under Macau SAR's "The Legal Framework for the Operation of Games of Fortune" and the approved rulings, there are 27 game types which are permitted to play in the casinos.
1. Baccarat
2. Baccarat "Chemin de Fer"
3. Black Jack
4. Boule
5. Craps
6. Cussec
7. Dozen Numbers
8. Fantan
9. "Zak Ngau"
10. Fish-Prawn-Crab
11. 13 Card Poker
12. Mahjong
13. Mahjong Baccarat
14. Mahjong Paikao
15. Pachinko
16. Paikao
17. Mini Paikao
18. 3 Card Poker
19. 5 Card Poker
20. Roulette
21. "Sap-I-Chi" or 12 Card Game
22. Super Pan 9
23. Taiwan Paikao
24. 3 Card Baccarat
25. Football Poker
26. Stud Poker
27. Lucky Wheel
Note: Cotai Strip is a trademark of Las Vegas Sands Corp.