英皇宮殿娛樂場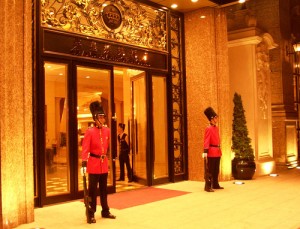 Where: Avenida Commercial De Macau

Gaming Tables: 64 on 3 floors of casino concourse & 8 VIP Halls

Slot Machines: 365

Gaming Space: N/A
The hotel boasts its "golden avenue", the only gold-laden pavement in the world. It has 78 pieces of 1-kilogram gold bars put beneath the ground in the hotel lobby.
Gaming Concourse The current 44 tables returned an average win of approximately HK$23,000 per table per day.
Slots Slot machines contributed turnover of HK$19.7 million. The current 333 seats had an average win of approximately HK$700 per day. Income was HK$6.1 million.
VIP room – Self-operated The Group has been running one of the six VIP rooms operating within the hotel since the hotel opened in January 2006. The six tables — all offer baccarat — recorded a rolling of HK$11.1 billion and an income of HK$117.5 million. Win percentage (calculated before discounts and commissions) was 2.7%. Average win per table per day was HK$579,000.
Photo copyright: Matt Whitmell