星丽門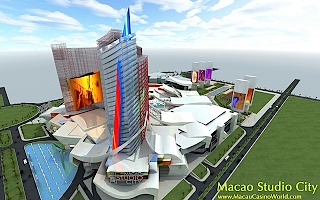 Where: Cotai Strip, near Lotus Bridge
Under Construction: TBA
Macao Studio City is located just opposite the Venetian Macao and looks like it is still hibernating. According to people familiar to the project, the current roadblocks are more political than financial.
There's still funds held within the New Cotai LLC's (USA) investors and just need eSun Holdings (HKG) & CapitaLand (SGP) to show them the money!
Due to the situation, Taubman Centres had pulled out of Macao Studio City last year (2009) as the developers were unable to secure sufficient financing.
Let's hope all will ends well very soon!
Gaming Tables: N/A No gaming operator picked yet

Slot Machines: N/A

Gaming Space: 36,000 sq ft
Photo used with permission of Macao Studio City
Macao Studio City is designed by the visionary Las Vegas-based entertainment and casino design expert, Mr Paul Steelman.
Macao, January 10, 2007 – Macao Studio City, Asia's first leisure resort property combining theatre, television and film production facilities, and Studio RetailTM, with gaming, entertainment and world-class hotels, was officially launched at a groundbreaking ceremony in Cotai, Macao, today.
Macao Studio City is being developed by Cyber One Agents Limited, a 60/40 joint venture between Hong Kong-based eSun Holdings ("eSun"; stock code: 571)(through its subsidiary, East Asia Satellite Television Holdings) and New Cotai LLC. eSun Holdings is one of Asia's leading media and entertainment companies and an associate company of Lai Sun Development ("LSD"; stock code: 488), a leading hotel and property developer. Both companies are part of Hong Kong's Lai Sun Group. Singapore's CapitaLand is a shareholder with eSun Holdings in East Asia Satellite Television Holdings owning 33.3 per cent of that venture.
New Cotai, LLC is a consortium of US-based investors including David Friedman, Co-Chairman of Macao Studio City and a veteran resort and gaming developer who led Las Vegas Sands' entry into Macao, and funds managed by Silver Point Capital, L.P., a private US-based investment firm, and Oaktree Capital Management, LLC, a global independent investment management firm.
During his opening remarks at the groundbreaking ceremony, Mr. Peter Lam, Co-Chairman of Macao Studio City and Chairman of Lai Sun Group, said, "As many of you know, Macao Studio City represents a major milestone in the realization of eSun Holding's vision for Macao's tourism and entertainment – a vision that dates back to our company's acquisition of the Cotai site in 2001 on what was once just water and a causeway. In this, Macao Studio City is not only a flagship undertaking of eSun Holdings, but also, a flagship of our commitment to Macao and our longstanding belief in and excitement about its future."
The project will be developed on an approximately 35-acre site strategically located "Where Cotai BeginsTM", next to the new Lotus Bridge immigration checkpoint, linking the complex directly to Zhuhai's Hengqin Island.
Designed by visionary Las Vegas-based entertainment and casino design expert Mr. Paul Steelman, the new world-class studio, entertainment, and Studio RetailTM complex is projected to have a total developed gross floor area of approximately 6 million square feet. Steelman's past and current clients include such recognized names as MGM Mirage, Las Vegas Sands, Sheraton, Hyatt and Harrah's, among others.
The planned entertainment components of Macao Studio City will be some of the most comprehensive and extensive of any single property in Macao, including a 2,300 seat theatre, a 4,700 person capacity arena/MICE center, stand-alone state-of-the-art television and film production facilities and a 1.4 million square feet Studio RetailTM complex to be created in partnership with Taubman Centers, Inc., one of the world's leading destination retail developers, owners and managers.
Studio RetailTM will integrate live-audience taped lifestyle and fashion programming throughout the retail environment, re-interpreting the Asian shopping experience. Studio RetailTM will draw upon eSun's leadership in the film, music production, talent management and live entertainment arenas and Taubman's own unmatched track record in creating dynamic retail environments such as The Pier at Caesar's in Atlantic City, the future MGM MIRAGE CityCenter retail district development in Las Vegas, and other retail properties spanning from Beverly Hills to Orlando, Florida.
In phase I alone, some of the world's most recognized hotel brands are also anticipated to partner with Macao Studio City to create over 2,000 luxurious guest rooms and suites, including Marriott International, Inc., which has entered into a letter of intent with the joint venture to manage both a Marriott hotel and a Ritz-Carlton hotel on the property.  This exciting new venture will also include in phase I a new 6-star boutique hotel concept to be created by Mr. David Tang, founder of the China Clubs and Shanghai Tang, which will be called The Tang Hotel.
In cooperation with a subsidiary of NASDAQ-listed Melco PBL Entertainment (Macau) Limited which owns one of the only six gaming licenses in Macau, New Cotai LLC plans to create 500,000 square feet of gaming facilities comprising more than 400 gaming tables at Macao Studio City.
Mr. Lam said, "We are seeking to create not only an entertainment home for Asia's leading stars, but also an opportunity for our visitors and guests to become a part of the star experience, themselves, through their participation in television and entertainment events."
Mr. Friedman, Co-Chairman and Co-Chief Executive Officer of Macao Studio City, said, "We are bringing together the best in entertainment, hotel and retail to create an all-encompassing, new and unique experience for visitors to Macao. eSun has unsurpassed experience in the region's entertainment industry and an in-depth understanding of what Asian consumers want. New Cotai has extensive financial resources and experience in resort development through major projects in Las Vegas and Macao. Our retail offer will be unsurpassed in Macao and our hotel partners are among the world's most respected brands."
"Cotai is a key element in Macao's emergence as a world-class leisure resort destination. We expect Macao Studio City to be Cotai's leading gateway facility, welcoming visitors to the new Macao," said Mr. Ambrose Cheung, Co-Chief Executive Officer of Macao Studio City. "We are proud of the internationally renowned partners who are joining us in this endeavour, and we believe that together, we will be creating a must-see, must-stay, must-shop destination."