Lesson 50 :: Series finale – Thank you all – Our farewell gift!
百家樂大學鑽鑫的哈佛
Baccarat Great Learning, from Zuan Xin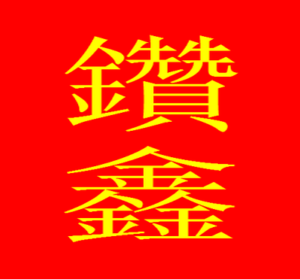 It has been a decade of exciting baccarat lessons from the monumental work of Master Zuan Xin and his group, and now our classic series is concluded!
We have come to understand the maths that are the foundation of the game, and we have come to know that baccarat is not a game of luck, but a game of skill with a mathematical basis that logically leads us to a method of play, based on our precise utilization of the pattern of patterns of the game of baccarat discovered and revealed by Master Zuan Xin.
And we have come to know that the props and rituals that have come to be associated with the game in the baccarat rooms of the world are unimportant, as Master Zuan Xin always says.
Pai bu zhong yao! The cards don't matter!
The Three Masters who have taken you all on this exciting journey of discovery, Master Zuan Xin, Master David Sofer, and Master Wang Shi, thank you all for your intense interest in the Baccarat Great Learning, and we hope that you will always approach your baccarat in the way of Zuan Xin, for your best baccarat enjoyment and success.
None of this would have been possible without the best quality support and assistance during all of these years from the Webmaster of Macau Casino World, to whom we extend our most sincere deeply held gratitude and appreciation and best wishes.
And although the Baccarat Great Learning series is concluded, the website will remain accessible just as always before, so you can come back and visit whenever you like, and you can share the Macau Casino World website with your family, friends, and associates!
And now to our farewell gift to all of you, our good and honorable friends and followers!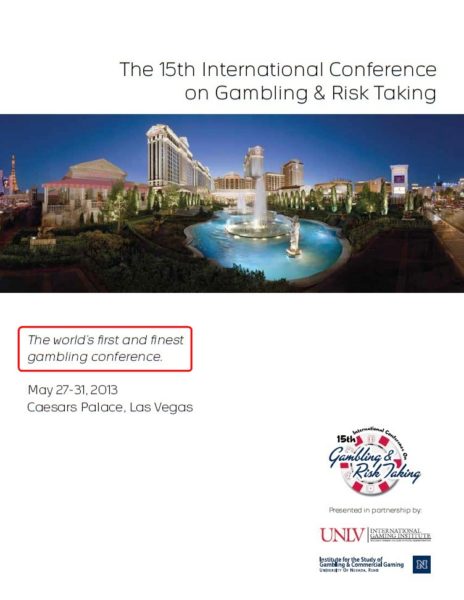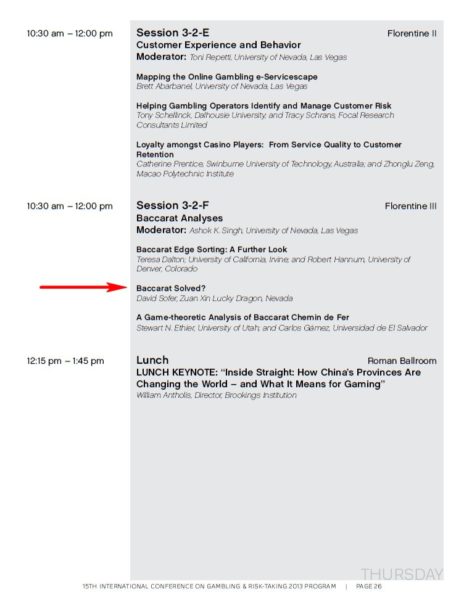 On May 30th, 2013, at the world famous Caesars Palace in Las Vegas, before the baccarat session of the most important world gathering of gambling experts, casino consultants, and gaming mathematicians, at the 15th International Conference on Gambling and Risk Taking, an event that is held just once every three years, Master David Sofer, at the invitation of the conference organizers from the University of Nevada at Las Vegas, successfully presented the Zuan Xin baccarat solution, the Xuxu Siyou, the Four Vivid Ritual Bonfires.
Know that the original title of the presentation was Baccarat Solved with an exclamation point, but the distinguished chairman of the organizing committee, the scion of a former head of the prestigious and powerful Nevada Gaming Commission, required that the exclamation mark be changed to a question mark to more properly set up the session as the definitive challenge to the unprecedented work of Master Zuan Xin, but irregardless, in accordance with the agreement, the presentation was successful and therefore baccarat was officially considered solved as of May 30th, 2013.
That was a major moment in the five thousand year history of games and gaming!
Dear friends and followers, please download for yourself the pdf file of this amazing presentation, exactly as it was delivered to the room full of academicians, experts, and world press representatives! And please share the web link for Macau Casino World Baccarat Great Learning with all of your family, friends, and associates who are interested in the game!
For those of you who are seriously interested in perfecting your knowledge and understanding of the Zuan Xin baccarat solution and who would like to give a modest gift to support the ongoing global outreach and baccarat gambling addiction research of the Zuan Xin team, we are continuing to conduct our special learnings both in person and via Skype, you can contact us by way of either WhatsApp or email at those US contacts listed on slide number 53 of the presentation.
The Three Masters and the rest of the Zuan Xin team thank you all with heartfelt thanks and wish you all the best success and happiness in mastering the academically validated Zuan Xin baccarat solution and in all things!
And we conclude with the favorite saying of Master Zuan Xin.
Be a player, not a gambler!
All our best wishes,
And a fond farewell,
The Great Master Zuan Xin
Grand Master David Sofer
Master Wang Shi
You are welcome to click here to download the amazing May 30th, 2013 presentation!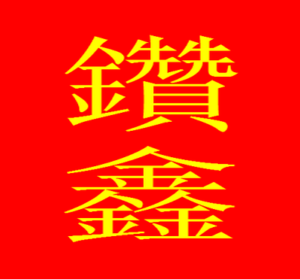 Disclaimer:
ANY AND ALL INFORMATION PRESENTED HEREIN IN BACCARAT GREAT LEARNING IS SOLELY FOR THE PERSONAL INFORMATIONAL AND ENTERTAINMENT USE OF VISITORS TO THIS WEBSITE. NO OTHER USE IS SUGGESTED OR RECOMMENDED EITHER EXPRESS OR IMPLIED. THE INFORMATION PRESENTED HEREIN IN BACCARAT GREAT LEARNING HAS BEEN DEVELOPED FROM SOURCES AND METHODS BELIEVED TO BE RELIABLE BUT NEITHER ZUAN XIN BAIJIALEDAXUE NOR MACAUCASINOWORLD.COM GUARANTEE ITS ACCURACY.
THE VISITOR TO THIS WEB SITE REPRESENTS BY CLICKING ON ANY LINKS TO THE CONTENT OF THIS SERIES THAT HE HAS READ AND UNDERSTOOD THIS DISCLAIMER AND AGREES THAT ANY OTHER USE OF THE INFORMATION PRESENTED IN BACCARAT GREAT LEARNING IS AT HIS OR HER OWN PERSONAL RISK AND IS IN NO WAY WHATSOEVER THE RESPONSIBILITY OF EITHER ZUAN XIN BAIJIALEDAXUE OR MACAUCASINOWORLD.COM OR ANY INDIVIDUALS ASSOCIATED THEREWITH.