百家樂大學鑽鑫的哈佛
Baccarat Great Learning, from Zuan Xin
By David Sofer
Last Hand of April 2012

Shoe 7 Hand 16

Player Ten of Diamonds

Banker Two of Clubs

And Player Ten of Spades for 0

And Banker Queen of Hearts for 2

Player draws Four of Clubs for 4

Banker draws Six of Spades for 8

Banker decision

Stop Win April

ROI 32.60%

ROA 6.59%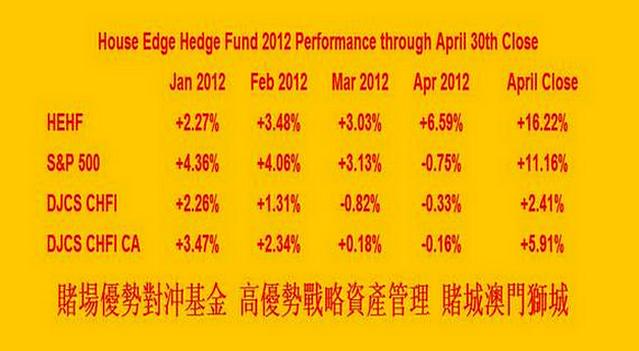 David Sofer, Harvard classmate and best follower of Zuan Xin, was appointed by the master upon his 2007 retirement to transmit the Baccarat Great Learning. Among his best learners ranks the fund manager Feng Zi whose report appears above. Those interested in learning with him should email him at dsofer888@yahoo.com, he offers a variety of super intensive programs in Las Vegas and Los Angeles to fit the busy schedules of learners. Now special arrangements may also be made for special learning programs via Skype upon special request, email dsofer888@yahoo.com for details!


ANY AND ALL INFORMATION PRESENTED HEREIN IN BACCARAT GREAT LEARNING IS SOLELY FOR THE PERSONAL INFORMATIONAL AND ENTERTAINMENT USE OF VISITORS TO THIS WEBSITE. NO OTHER USE IS SUGGESTED OR RECOMMENDED EITHER EXPRESS OR IMPLIED. THE INFORMATION PRESENTED HEREIN IN BACCARAT GREAT LEARNING HAS BEEN DEVELOPED FROM SOURCES AND METHODS BELIEVED TO BE RELIABLE BUT NEITHER ZUAN XIN BAIJIALEDAXUE NOR MACAUCASINOWORLD.COM GUARANTEE ITS ACCURACY.
THE VISITOR TO THIS WEB SITE REPRESENTS BY CLICKING ON ANY LINKS TO THE CONTENT OF THIS SERIES THAT HE HAS READ AND UNDERSTOOD THIS DISCLAIMER AND AGREES THAT ANY OTHER USE OF THE INFORMATION PRESENTED IN BACCARAT GREAT LEARNING IS AT HIS OR HER OWN PERSONAL RISK AND IS IN NO WAY WHATSOEVER THE RESPONSIBILITY OF EITHER ZUAN XIN BAIJIALEDAXUE OR MACAUCASINOWORLD.COM OR ANY INDIVIDUALS ASSOCIATED THEREWITH.