百家樂大學鑽鑫的哈佛
Baccarat Great Learning, from Zuan Xin
By David Sofer
Amazingly, Marvelous Macau blasted ahead to yet another global gambling industry record in May 2010, yes, the population of lazy Baccarat gamblers seems to be growing exponentially. So! We followers of the Baccarat Great Learning have to do much much better at transmitting the wisdom of our Baccarat master Zuan Xin.
In the first Chinese New Year Special of the Baccarat Great Learning, we were introduced to the strikingly beautiful Hong Kong born Chinese lady whose nom de jeu is The Queen of Clubs.
Recall what The Queen of Clubs told us. "Watch for the Queen of Clubs during every shoe because she rules the game of Baccarat with the power of mathematics and reasoning against the dark forces of superstition and impulse."
How thoughtful of The Queen of Clubs to email us this risk management reminder shoe with a note that reads, "I still believe what I told Zuan Xin during our visit together for the Year of the Fire Pig. Zuan Xin says right! A player employing the principle of diversification of bets across the rows will be even happier."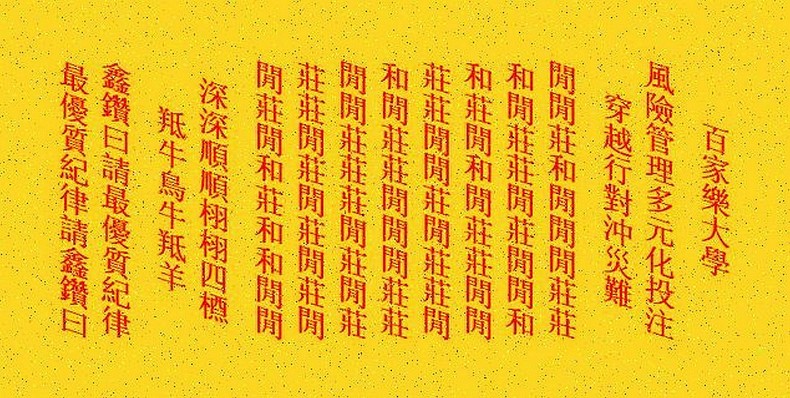 Followers of Zuan Xin, ardent players of the Baccarat Great Learning, we study this shoe provided us by The Queen of Clubs. We remind ourselves to manage our risk by diversifying our bets across the rows, best way to hedge against catastrophical shoes.
The Queen of Clubs concludes her message, "There are 23 betting opportunities, 2 at the Xuxu Siyou level and 21 at the Baccarat Great Learning level, the last one occurs after the Stop Win point. Find them all and understand them all, then reveal them to all of your friends, relatives, and associates, shine upon them the mathematical beauty of the Baccarat Great Learning. How risk management is attained by diversifying our bets across the rows!"
Take it to heart, what Zuan Xin says, "Please. Best Quality Discipline. Best Quality Disciple. Please!"
Be a player, not a gambler!

David Sofer, Harvard classmate and best follower of Zuan Xin, was appointed by the master upon his 2007 retirement to transmit the Baccarat Great Learning. Those interested in learning with him should email him at dsofer888@yahoo.com, he offers a variety of super intensive programs in Las Vegas and Los Angeles to fit the busy schedules of learners. Special arrangements may also be made for special group learning programs in Macau upon special request. Wonderful news, special group learning programs now available in Singapore upon special request, email for details!
Disclaimer:
ANY AND ALL INFORMATION PRESENTED HEREIN IN BACCARAT GREAT LEARNING IS SOLELY FOR THE PERSONAL INFORMATIONAL AND ENTERTAINMENT USE OF VISITORS TO THIS WEBSITE. NO OTHER USE IS SUGGESTED OR RECOMMENDED EITHER EXPRESS OR IMPLIED. THE INFORMATION PRESENTED HEREIN IN BACCARAT GREAT LEARNING HAS BEEN DEVELOPED FROM SOURCES AND METHODS BELIEVED TO BE RELIABLE BUT NEITHER ZUAN XIN BAIJIALEDAXUE NOR MACAUCASINOWORLD.COM GUARANTEE ITS ACCURACY.
THE VISITOR TO THIS WEB SITE REPRESENTS BY CLICKING ON ANY LINKS TO THE CONTENT OF THIS SERIES THAT HE HAS READ AND UNDERSTOOD THIS DISCLAIMER AND AGREES THAT ANY OTHER USE OF THE INFORMATION PRESENTED IN BACCARAT GREAT LEARNING IS AT HIS OR HER OWN PERSONAL RISK AND IS IN NO WAY WHATSOEVER THE RESPONSIBILITY OF EITHER ZUAN XIN BAIJIALEDAXUE OR MACAUCASINOWORLD.COM OR ANY INDIVIDUALS ASSOCIATED THEREWITH.