百家樂大學鑽鑫的哈佛
Baccarat Great Learning, from Zuan Xin
By David Sofer
Previously, a Review Shoe from the files of Zuan Xin was presented. And good work was done! Many many followers sent in good Review Shoe solutions, congratulations to all good better best followers of our Baccarat master Zuan Xin! There is no best solution to feature, so here are Zuan Xin's notes.

The small x's mark each 5 hands, the dots indicate betting situations (on the next hand) starting at the Tight threshold, and the diamonds indicate Xuxu Siyou situations (on the next hand). Along the bottom is the Xuxu Siyou listing, A and B and C and D, Ox and Sheep and Goat and Bird, the hand length in the subscript.
Lots of situations! Practice practice practice with this shoe. And test your money management principles too.

The amazing Aria casino opened late Wednesday night the 16th of December, and we were there at the $9 billion Las Vegas City Center complex, admiring the energy and excitement generated by her more amazing designer Baccarat room. An open and inviting place, casting off the worn notion of a gambling den, inviting all the world to play the game that we love.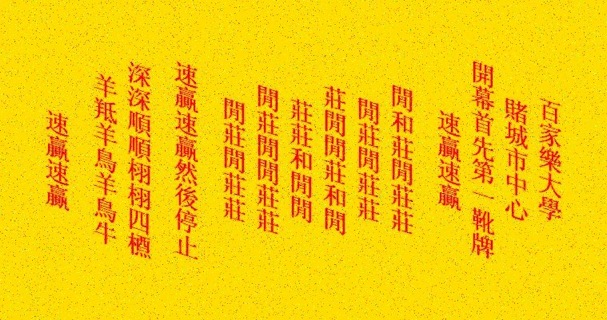 Here it is, the Aria's first completed Xuxu Siyou shoe. It didn't happen right away, but right after that! And at the Tight threshold, there's one sweet little red shoe within the shoe bet.
A nice quick profit and on to the next shoe! That's the spirit! A nice quick profit and on to the next shoe! That's the spirit of a player!

David Sofer, Harvard classmate and best follower of Zuan Xin, was appointed by the master upon his 2007 retirement to transmit the Baccarat Great Learning. Those interested in learning with him should email him at dsofer888@yahoo.com, he offers a variety of super intensive programs in Las Vegas and Los Angeles to fit the busy schedules of learners. Special arrangements may also be made for special group learning programs in Macau upon special request.
News flash! Learnings also now available through Skype! Email for details!
Disclaimer:
ANY AND ALL INFORMATION PRESENTED HEREIN IN BACCARAT GREAT LEARNING IS SOLELY FOR THE PERSONAL INFORMATIONAL AND ENTERTAINMENT USE OF VISITORS TO THIS WEBSITE. NO OTHER USE IS SUGGESTED OR RECOMMENDED EITHER EXPRESS OR IMPLIED. THE INFORMATION PRESENTED HEREIN IN BACCARAT GREAT LEARNING HAS BEEN DEVELOPED FROM SOURCES AND METHODS BELIEVED TO BE RELIABLE BUT NEITHER ZUAN XIN BAIJIALEDAXUE NOR MACAUCASINOWORLD.COM GUARANTEE ITS ACCURACY.
THE VISITOR TO THIS WEB SITE REPRESENTS BY CLICKING ON ANY LINKS TO THE CONTENT OF THIS SERIES THAT HE HAS READ AND UNDERSTOOD THIS DISCLAIMER AND AGREES THAT ANY OTHER USE OF THE INFORMATION PRESENTED IN BACCARAT GREAT LEARNING IS AT HIS OR HER OWN PERSONAL RISK AND IS IN NO WAY WHATSOEVER THE RESPONSIBILITY OF EITHER ZUAN XIN BAIJIALEDAXUE OR MACAUCASINOWORLD.COM OR ANY INDIVIDUALS ASSOCIATED THEREWITH.