百家樂大學鑽鑫的哈佛
Baccarat Great Learning, from Zuan Xin
By David Sofer
First a Dedication. This 9/9/9 special is written in honor of Dr. Stanley Ho, the King of Gambling, who has done so much to make Baccarat the game of games that it is today. Our teacher Zuan Xin with his thousands of followers around the world is surely the master of Baccarat, still he admires and respects Dr. Stanley Ho who is its personification. Always the master master hotelier, his Grand Lisboa represents a quantum leap on the business side of Baccarat and stands as his masterpiece to frame his game. So thank you, Dr. Stanley Ho, thank you for the larger-than-life role that you have played in the modern history of the game of Baccarat, Asia's favorite game!
Now to our learning. For maximum enjoyment, please be very familiar with the 2 most recent contents regarding the Xuxu Siyou. We are in deep waters now. Our master Zuan Xin takes us to the deepest innermost understanding of the game of Baccarat. Followers that reach this level of understanding know that the cards don't matter, not even runs or sequences of runs, we are at the meta level of meta sequences, sequences of sequences. We are in the presence of the underlying order of the game of Baccarat, the calm within the chaos. Pái bù zhòng yào!

To mentally prepare for 9/9/9, one of Zuan Xin's best new followers demonstrates Xuxu Siyou play for us playing 9 shoes at the same time. Here see the results, a 17 column bridge to Baccarat wisdom, only able to be understood by those who have made themselves ready to understand it!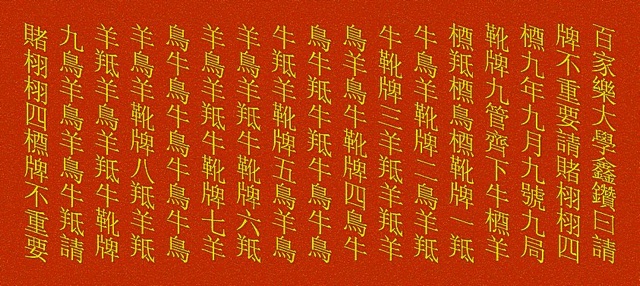 Click here for actual size.
Pái bù zhòng yào! When my friend and Harvard classmate Zuan Xin taught me the Baccarat Great Learning, he handed me a shoe's worth 8 decks of playing cards and then insisted that I physically tear each of those 416 cards in half. I complained for a moment but he was adamant. My hands were tired and hurting when I finished the task, but I permanently internalized our master's lesson. Pái bù zhòng yào!
For those who can reach the level of Xuxu Siyou, the game of Baccarat evolves into a new game at a higher dimension. The whole Baccarat room becomes our table, and in it, individual gamblers at individual tables fuel the fires of our game.

In the 9 shoes, there is good fun and success as probability predicts. Still, improbably, there is Xuxu Siyou excitement in Shoe 7. And that excitement builds up to the very last hand that improbably ends with one fire unlit. Immediately we do the math! Realizing that the probability of two consecutive incompletions of the Xuxu Siyou is less than 1-in-1,000 we look forward to the very next shoe at that very same table. A very unique situation to be enthusiastically embraced.
Now then! In advance of 9/9/9, carefully review the entire content of the Baccarat Great Learning and make your way to Marvelous Macau, confident, level-headed, mentally prepared. Please study hard, especially Baccarat Great Learning 5 on the Money Management Principle. Learn to understand Zuan Xin's masterpiece, the Xuxu Siyou, and think a good thought of Dr. Stanley Ho.

David Sofer, Harvard classmate and best follower of Zuan Xin, was appointed by the master upon his 2007 retirement to transmit the Baccarat Great Learning. Those interested in learning with him should email him at dsofer888@yahoo.com, he offers a variety of super-intensive programs in Las Vegas and Los Angeles to fit the busy schedules of learners. Special arrangements may also be made for special group learning programs in Macau upon special request.
In 2008, David Sofer was the featured Baccarat columnist for BACCARAT the winning lifestyle magazine of Hong Kong. At the November 2008 Global Gaming Expo Conference in Las Vegas, he was the Baccarat speaker at the crowded "Blackjack vs. Baccarat" session.
Disclaimer:
ANY AND ALL INFORMATION PRESENTED HEREIN IN BACCARAT GREAT LEARNING IS SOLELY FOR THE PERSONAL INFORMATIONAL AND ENTERTAINMENT USE OF VISITORS TO THIS WEBSITE. NO OTHER USE IS SUGGESTED OR RECOMMENDED EITHER EXPRESS OR IMPLIED. THE INFORMATION PRESENTED HEREIN IN BACCARAT GREAT LEARNING HAS BEEN DEVELOPED FROM SOURCES AND METHODS BELIEVED TO BE RELIABLE BUT NEITHER ZUAN XIN BAIJIALEDAXUE NOR MACAUCASINOWORLD.COM GUARANTEE ITS ACCURACY.
THE VISITOR TO THIS WEB SITE REPRESENTS BY CLICKING ON ANY LINKS TO THE CONTENT OF THIS SERIES THAT HE HAS READ AND UNDERSTOOD THIS DISCLAIMER AND AGREES THAT ANY OTHER USE OF THE INFORMATION PRESENTED IN BACCARAT GREAT LEARNING IS AT HIS OR HER OWN PERSONAL RISK AND IS IN NO WAY WHATSOEVER THE RESPONSIBILITY OF EITHER ZUAN XIN BAIJIALEDAXUE OR MACAUCASINOWORLD.COM OR ANY INDIVIDUALS ASSOCIATED THEREWITH.