百家樂大學鑽鑫的哈佛
Baccarat Great Learning, from Zuan Xin
By David Sofer
On behalf of our baccarat master Zuan Xin, wishes for a happy and prosperous new year! The Year of the Earth Ox comes in and the Year of the Earth Rat goes away. Good!
For followers of the Baccarat Great Learning, this will be a year of diligent study and hard work. A year for Best Quality Discipline.
Thanks to all the many followers of Zuan Xin who have sent in emails over the course of the year sharing thoughts, questions, and suggestions, as well as trackings of shoes played in casinos all over the world.
One of the earliest and best followers of Zuan Xin reports her last shoe of the outgoing Year of the Earth Rat. She describes herself as a "strong aggressive player" what is described in the content of Lesson 5, Special 8/8/8 Special, and Wall Street Baccarat.
This extremely interesting shoe seems like the past year! Opening with promise, it never quite delivers prosperity, and ultimately becomes a nightmare for even this great player that is only ended by her deliverance on its last card, the supposedly inauspicious 4 of Spades.
As underscoring, along its way there comes 6 consecutive ties, a 1-in-1,000,000 sequence, the kind of sequence that would tempt all but the most diligent followers of the Baccarat Great Learning to abandon Best Quality Discipline and its proscription of tie betting that is explained in Lesson 2.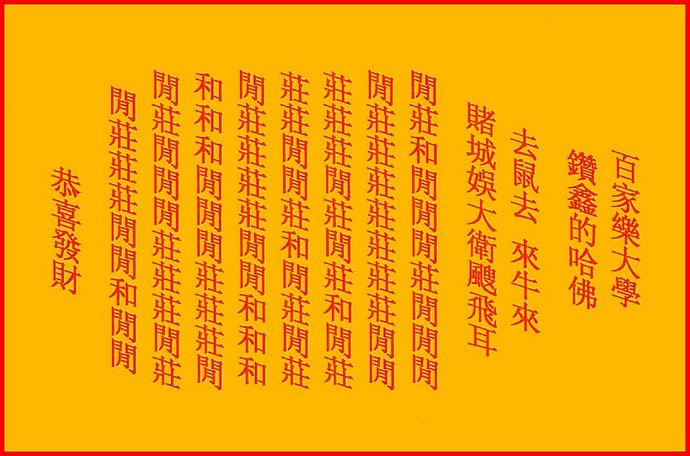 She writes in her email: "As Zuan Xin knows, I am a strong aggressive series player with best quality discipline. The attached shoe tested all of that. It took all of my strength to win it. Maybe this is an interesting shoe for the next Chinese New Year Special."
She continues: "I was up 2 units less some commission after 43 hands. I lost on the next hand but the shoe looked promising. Then that amazing run of ties came, and to my shame I almost abandoned Zuan Xin during it. I felt as if Zuan Xin himself was punishing me for it when I lost another bet after it. But I refused to reduce my bets or stop my loss like he teaches. I played on past 65 hands and lost 3 more bets."
She then relates her tale of terror: "I was terrified and I was angry at myself. And I was down 29 units plus some commission. I resigned myself to a bitter loss. I thought I deserved to lose because I dishonored the Baccarat Great Learning. Then just like that, I got a last chance. On the next to last hand the shoe went improbable with a Player decision and yielded up one last bet on the last hand. I was confused but I gathered myself. My hand shook as I slid my bet of 32 units onto the Player for the last hand. Win or lose, I restored my trust in the pattern of patterns! But I was really terrified."
She winds up her narrative on a happy note: "Banker's cards 6 of Clubs and 10 of Spades were turned over against Player's cards 3 of Hearts and 2 of Clubs. My terror rose. I closed my eyes. One last card! But I told myself it was a good solid bet. I think I blanked out for a second then opened my eyes just in time to see the last card of the shoe the 4 of Spades. I was happy to win my last shoe of the Year of the Rat. I am very excited for the coming of the Year of the Ox!"
To reiterate, the year of the Earth Ox will be a year of diligent study and hard work for followers of the Baccarat Great Learning, a year for Best Quality Discipline.
Our baccarat master Zuan Xin would certainly wish for all followers of the Baccarat Great Learning to most diligently review all of its contents in preparation for Chinese New Year.
Be an Ox in the Year of the Ox! Happy New Year! Be a player, not a gambler!

David Sofer, Harvard classmate and best follower of Zuan Xin, was appointed by the master upon his retirement to transmit the Baccarat Great Learning. Those interested in studying with him should email him at DsoFer888@yahoo.com, he offers a variety of super-intensive programs in Las Vegas and Los Angeles to fit the busy schedules of learners.
Special arrangements may also be made for special group learning programs in Macau upon special request. David Sofer is recently the featured baccarat columnist for BACCARAT the winning lifestyle magazine of Hong Kong, and was selected to write the featured Baccarat Bonanza article for this past summer's Global Gaming Expo Asia issue of Global Gaming Business.
This past November, after his forceful invited remarks for the "Blackjack vs. Baccarat" session at the prestigious Global Gaming Expo Conference in Las Vegas, he converted one Blackjack professional to Baccarat saying, "Baccarat's pure, Blackjack isn't, Blackjack's peaked, Baccarat hasn't."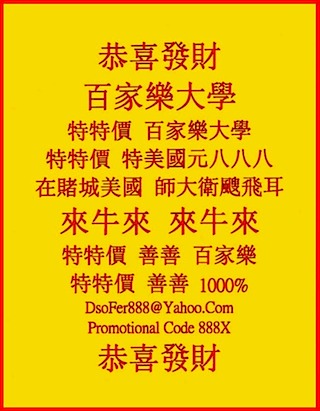 Disclaimer:
ANY AND ALL INFORMATION PRESENTED HEREIN IN BACCARAT GREAT LEARNING IS SOLELY FOR THE PERSONAL INFORMATIONAL AND ENTERTAINMENT USE OF VISITORS TO THIS WEBSITE. NO OTHER USE IS SUGGESTED OR RECOMMENDED EITHER EXPRESS OR IMPLIED. THE INFORMATION PRESENTED HEREIN IN BACCARAT GREAT LEARNING HAS BEEN DEVELOPED FROM SOURCES AND METHODS BELIEVED TO BE RELIABLE BUT NEITHER ZUAN XIN BAIJIALEDAXUE NOR MACAUCASINOWORLD.COM GUARANTEE ITS ACCURACY.
THE VISITOR TO THIS WEB SITE REPRESENTS BY CLICKING ON ANY LINKS TO THE CONTENT OF THIS SERIES THAT HE HAS READ AND UNDERSTOOD THIS DISCLAIMER AND AGREES THAT ANY OTHER USE OF THE INFORMATION PRESENTED IN BACCARAT GREAT LEARNING IS AT HIS OR HER OWN PERSONAL RISK AND IS IN NO WAY WHATSOEVER THE RESPONSIBILITY OF EITHER ZUAN XIN BAIJIALEDAXUE OR MACAUCASINOWORLD.COM OR ANY INDIVIDUALS ASSOCIATED THEREWITH.