百家樂大學鑽鑫的哈佛
Baccarat Great Learning, from Zuan Xin
By David Sofer
Financial panic on Wall Street! What does the Panic of 2008 have to do with the game of baccarat? Everything!
Those who master the Baccarat Great Learning and place their bets in harmony with its pattern of the patterns see the recent financial panic as a baccarat lesson from Wall Street, whose masters of the universe generated billions of dollars in easy profits in recent years with their exciting new bet called the credit default swap. By the time their credit default swaps game got into a potentially catastrophical sequence because of severe and ongoing problems in the property markets, the game was a US$62 trillion bubble about to burst! The financial panic ultimately was contained, but not before many in the global financial community experienced nervous breakdown levels of stress.
In baccarat, potentially catastrophical sequences are very long chops or very long runs or very long sequences, extremely improbable but nevertheless always possible in any particular shoe.
We remember well what Zuan Xin warns: "We must never allow ourselves to get caught up in a minor or major catastrophical sequence that continues to the end of a shoe that fails to revert to the pattern of the patterns." Wall Street periodically cycles into excess irrational exuberance because in its short-term mindset of greed it ignores that good advice, and this time global financial chaos was barely averted.
"This is our greatest money management challenge," Zuan Xin says, "we must be able to manage our way through these potentially catastrophical sequences of occurrences without suffering a catastrophical outcome. Even if it means accepting a losing shoe."
Wall Street may be able to get bailed out of its catastrophical outcomes and leave it to others to pay off its otherworldly losses, but we baccarat players do not have that luxury. So, given that any baccarat shoe may contain a catastrophical sequence, what do we do?
Zuan Xin teaches that each of us must develop a personal money management principle that we have carefully fitted to our financial circumstances. "Each of us must stay in tune with our particular financial realities. We must not ignore our sensitivities to short term fluctuations, and we must accept the fact that we will experience a losing shoe and take that fact into account."
Specifically, the master says, "Our minimally acceptable basic opportunity, no matter what our individual method of money management may be, is placing a bet against an occurrence when the increasing improbability of that occurrence reaches about 1 in every 3 and 1/2 shoes according to the known pattern of the patterns. This is the tight threshold. That means we wait for the shoe to vary away from the pattern of the patterns and toward at least this level of increasing improbability. Some of us may be more disciplined and tighten our thresholds to the next level of improbability, about 1 in every 7 and 1/8 shoes, or even to the next level beyond that, about 1 in every 14 and 1/4 shoes."
So how much stress can we handle, aside from the financial risk? Be honest!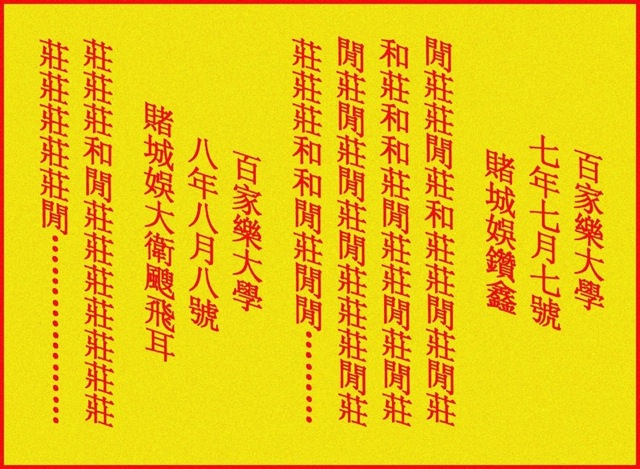 In must-win situations, Zuan Xin sets a threshold at that 3rd threshold, the tightest threshold, about 1 in every 14 and 1/4 shoes. Best for many of us to play each shoe as a must-win situation and set our threshold at that 3rd threshold. There, bets are few and far between, but to compensate for this they may be much higher in unit size. On 8/8/8 diligent followers of the Baccarat Great Learning enjoy a big win in the left side above displayed shoe without appreciable stress. Their third bet of the series, a 4 unit bet, is successful. Meanwhile, the aggressive series players reach the 16 unit bet level and are probably experiencing meaningful stress.
Big Eye Guy's successful baccarat group, being well-financed, sets a threshold at the 2nd threshold, about 1 in every 7 and 1/8 shoes. If you recall, Big Eye Guy's successful baccarat group reports a Three Sevens Day catastrophe in the right side above displayed shoe. "The unusual losing shoe for us, the baccarat equivalent of a super typhoon, featuring a highly improbable 12 Chop within an extremely rare sequence of 13 runs of 1 consecutive player decision in the red shoe within the shoe. It happens. We stop loss this 1 in a 1000 shoe." But note well that must-win style players ignoring the red shoe within the shoe are able to win that same nervewracking chop series.
If we must be more aggressive, we remember to embrace prudence and invoke a very cautious end-of-shoe strategy, that is, to quit if we are ahead, and if not, to only place low unit bets, so as to not get caught up, to not get caught up in that minor or major catastrophical sequence that continues to the end of a shoe that fails to revert to the pattern of the patterns.
Learn a baccarat lesson from the Panic of 2008 and thus avoid your own financial panic in the baccarat room.

David Sofer, Harvard classmate and best follower of Zuan Xin, was appointed by the master upon his retirement to transmit the Baccarat Great Learning. Those interested in studying with him should email him at DsoFer888@yahoo.com, he offers a variety of super-intensive programs in Las Vegas and Los Angeles to fit the busy schedules of learners. Special arrangements may also be made for special group learning programs in Macau upon special request. David Sofer is recently the featured baccarat columnist for BACCARAT the winning lifestyle magazine of Hong Kong, and was selected to write the featured Baccarat Bonanza article for the recent Global Gaming Expo Asia issue of Global Gaming Business. This coming November, he is invited to participate in the "Blackjack vs. Baccarat" panel discussion at the prestigious Global Gaming Expo in Las Vegas.
Disclaimer:
ANY AND ALL INFORMATION PRESENTED HEREIN IN BACCARAT GREAT LEARNING IS SOLELY FOR THE PERSONAL INFORMATIONAL AND ENTERTAINMENT USE OF VISITORS TO THIS WEBSITE. NO OTHER USE IS SUGGESTED OR RECOMMENDED EITHER EXPRESS OR IMPLIED. THE INFORMATION PRESENTED HEREIN IN BACCARAT GREAT LEARNING HAS BEEN DEVELOPED FROM SOURCES AND METHODS BELIEVED TO BE RELIABLE BUT NEITHER ZUAN XIN BAIJIALEDAXUE NOR MACAUCASINOWORLD.COM GUARANTEE ITS ACCURACY.
THE VISITOR TO THIS WEB SITE REPRESENTS BY CLICKING ON ANY LINKS TO THE CONTENT OF THIS SERIES THAT HE HAS READ AND UNDERSTOOD THIS DISCLAIMER AND AGREES THAT ANY OTHER USE OF THE INFORMATION PRESENTED IN BACCARAT GREAT LEARNING IS AT HIS OR HER OWN PERSONAL RISK AND IS IN NO WAY WHATSOEVER THE RESPONSIBILITY OF EITHER ZUAN XIN BAIJIALEDAXUE OR MACAUCASINOWORLD.COM OR ANY INDIVIDUALS ASSOCIATED THEREWITH.