百家樂大學鑽鑫的哈佛
Baccarat Great Learning, from Zuan Xin
By Zuan Xin
We have reached the final shoe of the Baccarat Great Learning. Look on with us as we gain special insight. And then go put it into practice!
Zuan Xin is just finished playing his last hand in his final baccarat competition. A special challenge match against Miss Ba Yi of Macau. Each player is sponsored by a group of very wealthy overseas Chinese baccarat enthusiasts. The Macanese challenger is so beautiful it is said the baccarat shoe itself will change the order of its cards just to bring out her beautiful smile. Bet City is at her feet!
The master Zuan Xin explains, "Honorable most wealthy followers of Baccarat Great Learning arrange last very special challenge." And he adds, "Tian requires more important things. How well MacauCasinoWorld.com teaches Baccarat Great Learning on Internet best way!"
Miss Ba Yi seasons her aggressive Chinese gambling style baccarat with a pinch of advanced probability and statistics. Though relatively unknown, she is a most excellent choice to challenge the master Zuan Xin because she matches up perfectly with the "Race To" challenge format.
To create a real baccarat test, the master Zuan Xin and Miss Ba Yi each start with a very very big stake and shoes are dealt until someone has either won that same amount or lost all of the original stake.
Amidst great fanfare in the vibrant Chinese community here in Bet City, Miss Ba Yi makes her appearance together with Zuan Xin at a gala dinner in Las Vegas Chinatown attended by the challenge organizers and the sponsors and their spouses. Informal but very big betting among the very wealthy ladies and gentlemen settles on final odds that make the master of baccarat the underdog!
Miss Ba Yi says, "It is a little unnerving to be favored over the master. I do not play his way, but that is mostly because I love to gamble and I seem to be good at it." One Zuan Xin sponsor mentions that the youthful and alluring baccarat beauty rarely has to contend with any gambling losses she runs up.
She continues, "I study the Baccarat Great Learning very carefully as I put together my plan for the challenge. I am expecting to win in middle of 3rd shoe. I certainly will not let him grind me up with steady winnings many shoes." The Queen of Clubs is an uncompromising supporter of Zuan Xin but she expresses concern that the master could go out a loser, "She is a marvelous young lady to represent Marvelous Macau."
Now look and listen with the eyes and ears of your mind! See a filled room and hear the anticipation as the shoe is prepared and the most humble card in the deck the 2 of Clubs is revealed and 2 cards are burned. Let beauty and brains contend!
Zuan Xin the master now underdog smiles at the strikingly intense young challenger. Then cheerfully letting his Harvard educated mind flow freely now prologue like he quotes to her of all things Shakespeare from King Henry the Fifth, "Once more unto the breach, dear friends, once more, or close the wall up with our English dead!"
Next he acknowledges the room with a friendly nod and a slight wave of his right hand, quite apparently continuing his Shakespeare though nearly inaudibly. At the opening Miss Ba Yi bets a big bet on the banker hand and wins. The master Zuan Xin is silent. She wins a few bets and loses a few bets. Her winnings have become very big. The master Zuan Xin is still silent.
Miss Ba Yi navigates a very flat shoe very smartly over the first 24 hands and she is 1/3 of the way to victory. She sees what followers of the Baccarat Great Learning see. But still the master Zuan Xin is silent. Now Miss Ba Yi decides to pause and she sets herself intensely patiently and lets the shoe chop out its 7th Chop at Hand 31. And she wonders along with everyone else, "What is the master doing?"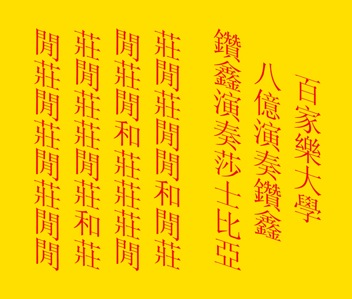 Friends, study this shoe! Commit it to memory and remember it often! Our dealer remembers at the afterparty that he is able to hear faintest whisperings completing that famous Shakespeare quote, "But when the blast of war blows in our ears, then imitate the action of the tiger." The spouse of one sponsor says she remembers that line from a movie based on King Henry the Fifth, "Unforgettable moment, like this one!"
Miss Ba Yi and everyone else gasps when the master Zuan Xin now decided pushes out his entire stake onto the player bet for Hand 32! She says, "When he does this, I am completely stunned. I watch the pattern and wait for him to bet the red shoe within the shoe but he just sits. Then suddenly he bets everything. What do I do? I know what he is doing but I do not want to do it. So I gamble that his bet against what is at most a 1 in 57 occurrence is a loser. And I get to watch the dealer turn over a bright red natural 9 and it is all over."
In a remarkable stroke of strategic brilliance, the master decides to wait as long as possible for a very great bet and then imitate the action of the tiger. The master Zuan Xin smiles modestly and says, "Row 1 is in full bloom, so I pick beautiful flower!"
The player hand of the 7 and the 2 of Hearts will always be recalled by those who saw those red cards overturned. Miss Ba Yi quickly almost instinctively stands up and hugs the master as a daughter would her father. Those nearest the table see tears streaming down out of her eyes. Nobody remembers what the banker hand held, not even the dealer, but it was not good enough to spoil the moment.
She laughs at herself. "I should have matched him. But I am not the master."
At the afterparty, Miss Ba Yi says she is now converted to the Baccarat Great Learning. "It is now clearly explained to me," asserts the flower of Macau baccarat. "My master Zuan Xin shows all of us how exciting it is to be a player!" Everyone is happy, even her sponsors that have lost very big this day. It is a transcendent moment.
Afterwards, she accompanies the master to a casino adjacent to Chinatown the only place in Las Vegas where one is able to catch a glimpse into the world of Macau baccarat. Play stops just for a long moment and dozens of knowing glances applaud the pair as they make round the baccarat area.
What turns Zuan Xin into the tiger? The master confesses. Early in summer, the Macau DICJ releases its casino winnings data for the 2nd Three Months of 2007, including the astonishing VIP Baccarat and regular Baccarat winnings data that represents most of the Macau win. VIP Baccarat winnings increase 58% over the 2nd Three Months of 2006, and regular Baccarat winnings increase 38% over the 2nd Three Months of 2006.
Our baccarat master is devastated by this news. "Data tells us that ratio of gamblers to players increases fast! Proof of natural human tendency to be lazy and sloppy. Baccarat Great Learning requires Best Quality Discipline. Data shows negative expectation associated with lazy sloppy baccarat gambling."
Now the Harvard educated master waxes philosophical saying, "Diligent disciplined followers of Baccarat Great Learning, do not be distracted by any of the sound and fury of these baccarat gamblers, even in their winning moments, because it amounts to nothing in the end but an avalanche of losses of good money thrown away for a thrill with a half life less than that of a cube of ice dropped into a glass of hot green tea."
So ends the last hand of the Baccarat Great Learning. Bet on yourself as a player, do not bet against yourself and be a gambler. The thrill of winning consistently is a lasting joy and a source of pride in a job well done. And when you choose to become a player and win consistently, do not feel sorry for the casinos for even 1 second, there will always be plenty of losers!
Thus concludes our business our pouring out of a glass of hot green tea onto a cube of ice. Old habits die hard, yet they readily melt away under the correct application of knowledge and discipline!
Please recommend MacauCasinoWorld.com Baccarat Great Learning to all your friends and relatives! Best regards!
鑽鑫

Disclaimer:
ANY AND ALL INFORMATION PRESENTED HEREIN IN BACCARAT GREAT LEARNING IS SOLELY FOR THE PERSONAL INFORMATIONAL AND ENTERTAINMENT USE OF VISITORS TO THIS WEBSITE. NO OTHER USE IS SUGGESTED OR RECOMMENDED EITHER EXPRESS OR IMPLIED. THE INFORMATION PRESENTED HEREIN IN BACCARAT GREAT LEARNING HAS BEEN DEVELOPED FROM SOURCES AND METHODS BELIEVED TO BE RELIABLE BUT NEITHER ZUAN XIN BAIJIALEDAXUE NOR MACAUCASINOWORLD.COM GUARANTEE ITS ACCURACY.
THE VISITOR TO THIS WEB SITE REPRESENTS BY CLICKING ON ANY LINKS TO THE CONTENT OF THIS SERIES THAT HE HAS READ AND UNDERSTOOD THIS DISCLAIMER AND AGREES THAT ANY OTHER USE OF THE INFORMATION PRESENTED IN BACCARAT GREAT LEARNING IS AT HIS OR HER OWN PERSONAL RISK AND IS IN NO WAY WHATSOEVER THE RESPONSIBILITY OF EITHER ZUAN XIN BAIJIALEDAXUE OR MACAUCASINOWORLD.COM OR ANY INDIVIDUALS ASSOCIATED THEREWITH.