百家樂大學鑽鑫的哈佛
Baccarat Great Learning, from Zuan Xin
By Zuan Xin
What a day in Fabulous Las Vegas is Three Sevens Day! Bet City Baccarat and every other table game is completely gone wild on 7 July 2007. And after the mayhem is subsided, we meet up with our friend The Queen of Clubs.
She relates to us an incident that is most amusing yet also most instructive for our purpose. It happens late in the evening of that day, just after she makes her always spectacular entrance at one of the best baccarat rooms here.
Now we should remind ourselves that Marvelous Macau surpasses Fabulous Las Vegas in its baccarat playing customs. Baccarat enthusiasts in Macau who are not sitting at a table can always bet from behind. Everybody is used to that and everybody understands that. No one need miss a chance to bet.
But in Las Vegas this is not necessarily so. Betting from behind is allowed but only according to the whim of the table supervisor, who decides quite arbitrarily if such a bet is allowed, and if so, how large the bet must be.
Anyway, her 1st shoe goes splendidly. The Queen of Clubs notes, "Nobody else at the table is a follower of the Baccarat Great Learning. The men are staring at me for no good reasons, and their women seem to be enjoying disliking me. Usually I prefer to focus my play on Row 1, but Row 2 really sparkles at Hand 23 for me. Everyone else at the table commits heavily to the player side, and I admit that maybe I am smiling too gleefully as I collect my winnings on that beautiful banker bet. And I ignore one particular woman staring icily at me."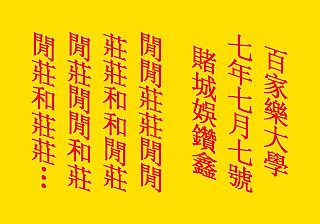 Yes, the Queen of Clubs is noticed. For she is now crossing paths with that very special Bet City phenomenon, a Southern California Chinese group of about 40 men and women, a veritable VIP swarm, very preferred customers all, and of course all 40 of them believe that this baccarat room is their baccarat room.
She continues, "As I see another shoe blooming nicely and get up to move to that table, that same particular woman shoots at me what I can only describe as a murderous glance. But I figure she is just jealous of me."
Look! See suddenly that woman of that swarm actually running across the baccarat room in her designer label high heels to prevent The Queen of Clubs from sitting down at another table that is also peopled by her swarm. It nearly comes to blows, reports The Queen of Clubs. Says she, "Imagine that, that woman actually accusing me of trying to ruin the luck of her table that she says is only for her family! She is crazy, a wild female boar in heat, and she bulldozes me away from that table. And the shoe is brilliantly sparkling at Hand 22."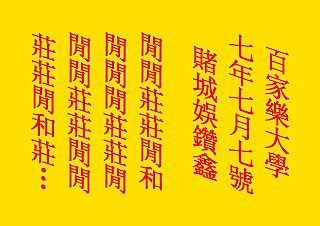 Being a VIP herself, The Queen of Clubs is quite upset when the table supervisor, a man she knows very well, rules against her demand that he unseat the wild boar woman. The table limits are already set very high, so even though the table supervisor finally agrees to let The Queen of Clubs bet from behind at 2 times the minimum, she follows her money management principle and just walks away. During the negotiations with the table supervisor, that wild boar woman does not even pretend to place a single bet!
The Queen of Clubs laments, "An amazing antichop sequence wasted on a crazy wild boar woman!" We congratulate The Queen of Clubs for her Best Quality Discipline in following her money management principle at such a difficult moment!
Please feel free to email zuanxinbaijiale@yahoo.com about the Baccarat Great Learning. Please remember the essential importance of the Baccarat Great Learning money management principle and use it rigorously! And please do not forget Best Quality Discipline! Please choose to be a player!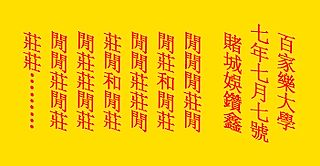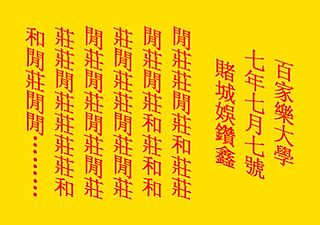 Here are 2 special shoes Big Eye Guy offers up from this same special day. Says he, "Three Sevens Day is a great day for baccarat group play because of the extra large crowds on the Las Vegas Strip. The 1st shoe is a wonderful opening sequence in Row 2 that reveals a fantastic banker bet at Hand 32. The 2nd shoe is the unusual losing shoe for us, the baccarat equivalent of a super typhoon, featuring a highly improbable 12 Chop within an extremely rare sequence of 13 runs of 1 consecutive player decision in the red shoe within the shoe. It happens. We stop loss this 1 in a 1000 shoe.
Likewise, we congratulate Big Eye Guy and all of the members of his baccarat group for their Best Quality Discipline! Impressive!
Disclaimer:
ANY AND ALL INFORMATION PRESENTED HEREIN IN BACCARAT GREAT LEARNING IS SOLELY FOR THE PERSONAL INFORMATIONAL AND ENTERTAINMENT USE OF VISITORS TO THIS WEBSITE. NO OTHER USE IS SUGGESTED OR RECOMMENDED EITHER EXPRESS OR IMPLIED. THE INFORMATION PRESENTED HEREIN IN BACCARAT GREAT LEARNING HAS BEEN DEVELOPED FROM SOURCES AND METHODS BELIEVED TO BE RELIABLE BUT NEITHER ZUAN XIN BAIJIALEDAXUE NOR MACAUCASINOWORLD.COM GUARANTEE ITS ACCURACY.
THE VISITOR TO THIS WEB SITE REPRESENTS BY CLICKING ON ANY LINKS TO THE CONTENT OF THIS SERIES THAT HE HAS READ AND UNDERSTOOD THIS DISCLAIMER AND AGREES THAT ANY OTHER USE OF THE INFORMATION PRESENTED IN BACCARAT GREAT LEARNING IS AT HIS OR HER OWN PERSONAL RISK AND IS IN NO WAY WHATSOEVER THE RESPONSIBILITY OF EITHER ZUAN XIN BAIJIALEDAXUE OR MACAUCASINOWORLD.COM OR ANY INDIVIDUALS ASSOCIATED THEREWITH.