百家樂大學鑽鑫的哈佛
Baccarat Great Learning, from Zuan Xin
By Zuan Xin
Last time we familiarized ourselves with the number 1 and number 2 key winning principles of a player. It is a good idea to review these principles 1 more time before reading further. We do not proceed further unless and until we have fully absorbed these principles!
There is no shortcut to becoming a player! Our harmonizing of our confidence in our knowledge of the game with our discipline to wait for the shoe to reveal sequences of increasing improbabilities is our way to choose not to be a gambler at the baccarat table.
Of course, the number 3 key winning principle of a player is the money management principle. Now we will discuss our spectrum of money management methods using the 3rd shoe from last time as our example. Recall that this shoe is from the main room of a most exquisite casino on the Las Vegas Strip, and it is heading into Hand 64. We have tracked this shoe according to our method on another downloaded Baccarat Great Learning blank scorecard.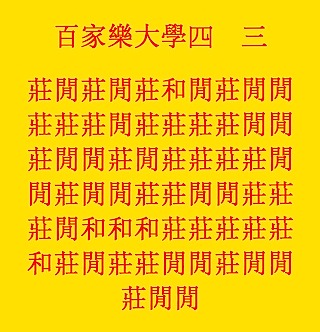 Click here for expanded view
Money management can be a perplexing matter. None of us have the same exact financial circumstances and none of us have exactly the same level of indifference to short term fluctuations and risk.
Therefore it is essential that we are absolutely objective about our specific individual financial circumstances in order to be able to employ our knowledge successfully to win at baccarat. This is the money management principle.
As we delve deeply into this shoe, let us keep in mind the contents of Rule 3 of our 2nd Baccarat Great Learning about the pattern of the patterns of the game of baccarat. In the zoom view of our scorecard, we study closely the patterns of this shoe unfolding like a beautiful flower. The circled numbers represent the revealing of basic opportunities to place a bet on the immediately following decision. Advanced opportunities such as the 2nd example in our 4th Baccarat Great Learning will be addressed in our Chinese New Year special.

Click here for expanded view
Our minimally acceptable basic opportunity, no matter what our individual method of money management may be, is placing a bet against an occurrence when the increasing improbability of that occurrence reaches about 1 in every 3 and 1/2 shoes according to the known pattern of the patterns. This is the tight threshold.
That means we wait for the shoe to vary away from the pattern of the patterns and toward at least this level of increasing improbability. Some of us may be more disciplined and tighten our thresholds to the next level of improbability, about 1 in every 7 and 1/8 shoes, or even to the next level beyond that, about 1 in every 14 and 1/4 shoes. Notice that in the must-win situation of the 2005 Chinese baccarat challenge in Las Vegas, we established our threshold at the 3rd threshold, the tightest threshold, about 1 in every 14 and 1/4 shoes.
Now let us list the 15 possible basic opportunities that this shoe presents to players, culminating with a very outstanding basic opportunity being presented in the upcoming Hand 64. We say possible because each of us establishes our own specific criteria for placing bets and their respective amounts for each basic opportunity.
Study this listing carefully and understand it completely! Note that asterisks point out opportunities in the black numbered banker decision only shoe-within-the-shoe or the red numbered player decision only shoe-within-the-shoe.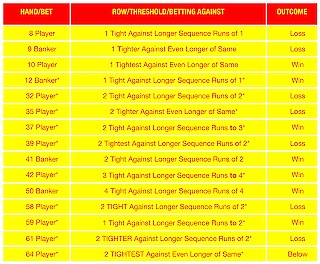 Click here for expanded view
We observe that by Hand 64 the Row 2 situation has really blossomed! A beautiful blossom! In the red numbered player decision only shoe-within-the-shoe, we are looking at an extreme situation of increasing improbability of this course of events, 1st, the continuing nonoccurrence of a run of more than 2 consecutive player decisions, and 2nd, the lengthening of the already improbable sequence of 8 runs of 2 consecutive player decisions to 9 runs. The occurrence of that 9th run in the sequence of runs of 2 consecutive player decisions has an improbability of occurrence of about 1 in every 113 and 3/4 shoes according to the known pattern of the patterns.
We place our bet on the player hand, and we ignore the gamblers at the table who mock us because their talismans tell them there will be no runs of more than 2 consecutive player decisions. And we are content when the shoe finally reverts to the pattern of the patterns, delivering our long awaited 3rd consecutive player decision.
Be aware! These kinds of most extraordinary sequences are also extremely dangerous, in fact, potentially catastrophical. We have all experienced or heard the stories about very long chops or very long runs or very long sequences, and because a very long chop or a very long run or a very long sequence makes a powerful impression on our minds, we tend to form a belief that it occurs more often than it actually does occur. We know what the pattern of the patterns tells us, that these occurrences are extremely improbable, but we also must remember that a very long chop or a very long run or a very long sequence can occur in any particular shoe.
This is our greatest money management challenge, we must be able to manage our way through these potentially catastrophical sequences of occurrences without suffering a catastrophical outcome. Even if it means accepting a losing shoe.
In this shoe, our employing the principle of diversification of bets across the rows enables us to avoid the catastrophical potential of red numbered row 2 and achieve a net win of 7 and 3/4 units by the end of Hand 64. We then embrace prudence and invoke our end-of-shoe strategy, that is, to quit if we are ahead, and if not, to only place low unit bets, so as to not get caught in a minor or major catastrophical sequence that continues to the end of a shoe that fails to revert to the pattern of the patterns.
Now, keeping the money management principle in mind, we must experiment with these data, using as many different combinations of thresholds and betting formulas as is necessary for us to arrive at our personal money management method that we have carefully fitted to our financial circumstances. Some of us may prefer to ignore the red numbered and black numbered shoes-within-the-shoe. Each of us must stay in tune with our particular financial realities. We must not ignore our sensitivities to short term fluctuations, and we must accept the fact that we will experience a losing shoe and take that fact into account.
We are players, and we concentrate on winning each and every shoe, because the shoe is the game! We can win if and only if we do not lose. If we can win more shoes than we lose, we are winners!
Next time is our Chinese New Year Special, and we will meet one of the outstanding baccarat players in Fabulous Las Vegas, a strikingly beautiful Hong Kong born Chinese lady whose nom de jeu is The Queen of Clubs. She will tell us about the shoe that gave her that name, and she will offer us some considered advice on how to make our Year of the Pig a red hot one for us at the baccarat table!
Please feel free to email me at zuanxinbaijiale@yahoo.com with your suggestions and comments. The volume of email is growing so please be patient for our reply. Thank you!
We are receiving many emails with very insightful comments and questions. We can see that many baccarat players are now in development! It is impractical to respond specifically to comments and questions that are ultimately related to underlying financial circumstances. Study and contemplate the content very diligently to understand the questions and their answers. Congratulations, we have completed the core of Baccarat Great Learning!
Disclaimer:
ANY AND ALL INFORMATION PRESENTED HEREIN IN BACCARAT GREAT LEARNING IS SOLELY FOR THE PERSONAL INFORMATIONAL AND ENTERTAINMENT USE OF VISITORS TO THIS WEBSITE. NO OTHER USE IS SUGGESTED OR RECOMMENDED EITHER EXPRESS OR IMPLIED. THE INFORMATION PRESENTED HEREIN IN BACCARAT GREAT LEARNING HAS BEEN DEVELOPED FROM SOURCES AND METHODS BELIEVED TO BE RELIABLE BUT NEITHER ZUAN XIN BAIJIALEDAXUE NOR MACAUCASINOWORLD.COM GUARANTEE ITS ACCURACY.
THE VISITOR TO THIS WEB SITE REPRESENTS BY CLICKING ON ANY LINKS TO THE CONTENT OF THIS SERIES THAT HE HAS READ AND UNDERSTOOD THIS DISCLAIMER AND AGREES THAT ANY OTHER USE OF THE INFORMATION PRESENTED IN BACCARAT GREAT LEARNING IS AT HIS OR HER OWN PERSONAL RISK AND IS IN NO WAY WHATSOEVER THE RESPONSIBILITY OF EITHER ZUAN XIN BAIJIALEDAXUE OR MACAUCASINOWORLD.COM OR ANY INDIVIDUALS ASSOCIATED THEREWITH.